Las Vegas Buyer's Market, Seller's Happy Pricing Your House Right - The Morcom Group's Las Vegas December Market Review
Posted by Bobby Morcom on Wednesday, December 28, 2022 at 7:40 AM
By Bobby Morcom / December 28, 2022
Comment
Ok Listen up if you have a home in Las Vegas. Single Family Residential Home 2022 closings are down to new lows going back to 2008 to find lower numbers. Additionally, we are 25% off the 2021 numbers. The number of Properties Listed, and Homes Under Contract with a Buyer all dropped significantly again, turning our market from a Seller's market, to a Buyer's market in about 6-months time.
As a Seller, many Communities are still in High Demand. Many Buyer's seemingly want MOVE-IN ready homes. So those that are updated, Fresh and Clean, are still selling Quickly and at Top Market Prices. Those that need fixing up or updating, seem to languish at those Top of the Market Listing Prices and then sell for Lower anyways. Attached Date from Equity Title shows Listinngs Over-Priced by 46,000!
I have had multiple properties, no matter who I represented Buyer or Seller, that have Sold for up to 20% less recently, when compared to the same home in March 2022.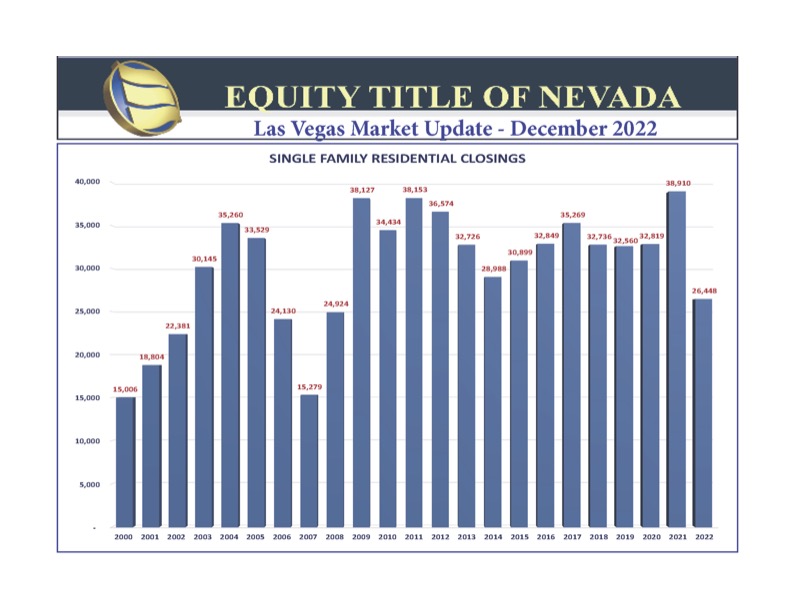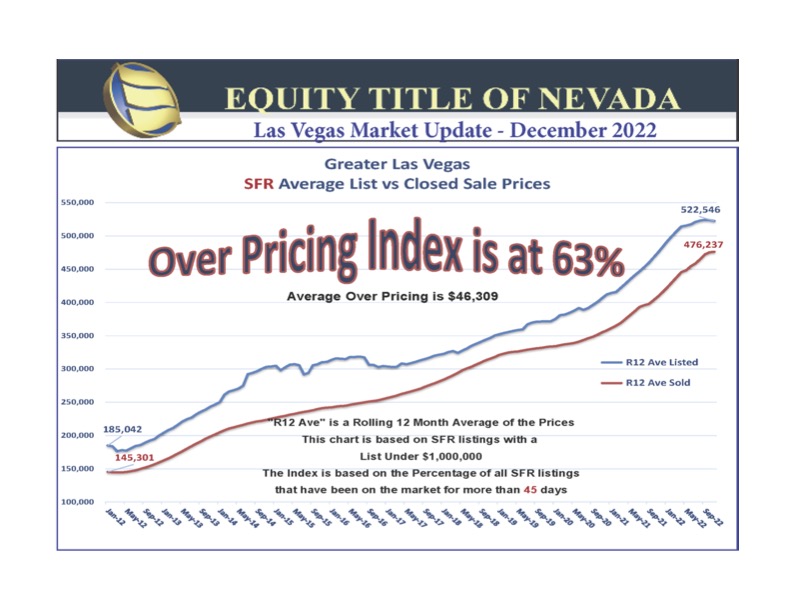 Clearly the market is adjusting, but where will it go? What will Interest Rates look like in 2023? Are we headed towards a Recession like 2008?
According to BankRate,
Economists in a Bankrate poll put the odds of a recession by the middle of 2024 at 65 percent.
"Not only is it a concern, but the odds favor it," says Greg McBride, CFA, Bankrate chief financial analyst, referring to recession risks. "Look at the last three [tightening] cycles: Two of them ended in recessions, and the one that didn't was an economic slowdown, where they had to reverse course and start cutting rates. History is not on their side."
Full BankRate Articel here - https://www.bankrate.com/banking/federal-reserve/how-much-will-fed-raise-rates-in-2023/
Others on Business Insider feel that the Feds will not raise Interest Rates 3 more times next year, as previously stated.
https://markets.businessinsider.com/news/bonds/bond-market-bluff-fed-interest-rate-hikes-next-year-stocks-2022-12
Strategy comes to mind now right because many of us have Equity in our Home, but how do we get it out? Or do we save our money and see what happens regarding a recession and be READY to BUY!!
Is there a short-term strategy, and a long-term strategy, or are they both the same?
All great questions and answers would be specific to YOU and ONLY YOU!! Everyone;s financial profile and prjections are different.
As food for thought, I bought 10 properties and Flipped in 2010-2011 and I started purchasing my first one with just 39,000 cash!
Let's sit down and Put a Plan Together so your are READY to POUNCE in 2023/2024!!
Bobby